Easy Upma Recipe: How to Make This Delicious Indian Breakfast Dish Uppma
Upma Recipe: How to Make simple, delicious and easy-to-make Indian Breakfast Dish Upma with semolina and spices.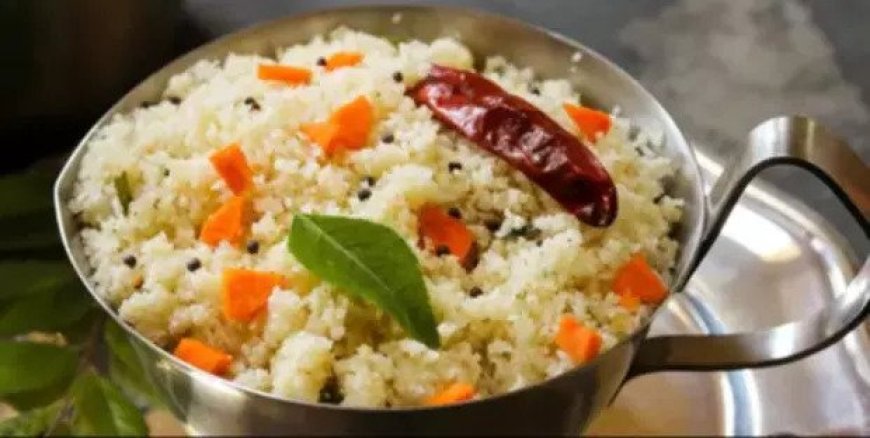 Easy Upma Recipe: How to Make This Delicious Indian Breakfast Dish
Easy
Upma Recipe:

How to Make This Delicious Indian Breakfast Dish Uppma
Upma is a popular Indian breakfast dish that is made from semolina (also known as sooji or rava) and vegetables. It is easy to make and can be prepared in just a few minutes, making it a great option for a quick breakfast or snack. In this article, we will go over the ingredients and steps required to make this delicious and nutritious dish uppma.
Ingredients:
1 cup semolina (sooji or rava)

2 cups water

1 onion, chopped

1 tomato, chopped

1 green chili, chopped

1/2 inch ginger, grated

1/2 tsp mustard seeds

1/2 tsp cumin seeds

1/2 tsp urad dal (split black gram)

1/2 tsp chana dal (split chickpeas)

1/4 tsp turmeric powder

1 tbsp oil

Salt to taste

Coriander leaves for garnishing
Cooking Instructions:
Dry roast the semolina(suji) in a pan on low heat until it turns light brown in color. This step is important as it removes the raw taste of the semolina and also helps in achieving the right texture of the upma. It should be roasted on low heat to avoid burning and to ensure that it is evenly roasted.

In another pan, heat the oil on medium heat. Add mustard seeds, cumin seeds, urad dal, and chana dal. Sauté for a few seconds until the mustard seeds start to pop. These spices and lentils add flavor and texture to the upma.

Add the chopped onion and saute for 2-3 minutes until it turns translucent. This adds sweetness and crunch to the dish.

Add the chopped tomato, green chili, and grated ginger. Saute for another 2-3 minutes until the tomatoes are cooked and soft. This adds a tangy and spicy flavor to the upma.

Add 2 cups of water, turmeric powder, and salt to taste. Bring it to a boil. The amount of water may vary depending on the quality of semolina and the desired texture of the upma. Turmeric powder adds a bright yellow color to the upma and also has health benefits.

Reduce the heat to low and slowly add the roasted semolina while stirring continuously to avoid lumps. It is important to stir continuously to avoid lumps and to ensure that the semolina is evenly cooked.

Cover the pan and let it cook on low heat for 2-3 minutes. This allows the semolina to absorb the water and get cooked completely.

Once the upma is cooked, turn off the heat and let it sit for a minute. This allows the flavors to blend well and also allows the upma to cool down slightly.

Garnish with fresh coriander leaves and serve hot with chutney or pickle. Coriander leaves add freshness and flavor to the upma while chutney or pickle is a perfect accompaniment to this dish.
Overall, upma is a simple and easy-to-make dish that is perfect for breakfast or as a snack. It is a nutritious and filling dish that can be made with simple ingredients that are easily available in most households.